Ambassadors & Pro Staff
Angling has been a lifelong hobby and profession. Watching clients catch that first ever walleye or personal best fish and knowing those memories will last a lifetime is priceless. - Aaron Phillipe
Andrew Kraft
Elliott / 2B FISHING - Ambassador
We all have those special memories and moments as we continue our journey through life. Fortunately, I experience many of those through fishing! It's a sport, hobby, tradition, outlet, and so much more. Some of my favorite memories are spent in the boat or on the ice, bending a rod, and living in the moment. There are days where you capitalize on that burning desire to pin a bite down, and others where you simply enjoy posting up in a spot and wetting a line. My purpose has always been to enjoy these times and to continually learn through these adventures, and to share those experiences with others! I'm a multi-species angler, spending a majority of my time fishing the many great panfish waters surrounding the Bemidji area for crappies and bluegills, Lake of the Woods for walleyes, sturgeon, and northern pike, and Lake Mille Lacs for walleyes and smallmouth bass. There are so many great opportunities for us all to experience through fishing. No matter what it means to you, you're the one living that experience. Enjoy it!
Toby Kvalevog
Elliott / 2B FISHING - Ambassador
Toby Kvalevog is a tournament fisherman and owner at Leisure Outdoor Adventures. Toby is a multi species Minnesota fishing guide who has been chasing Walleye, Northern Pike and Musky for over 35 years. Toby started his guiding in the Bemidji area through the Take a Kid Fishing event held annually on Lake Bemidji where he grew up. From there he mastered his skills tournament fishing across the state of Minnesota, winning FLW Walleye events on Cass Lake, Leech Lake, and winning Angler of the year in 2005. Toby loves being a fishing guide on some of Minnesota's top fishing destination lakes like Gull Lake, Pelican Lake, Mille Lacs lake, Lake Winni, Leech Lake, Cass Lake and Lake Bemidji because of the numbers of trophy class Walleye, Pike, Bass, and Musky that call these waters home. Toby K is an experienced multi species fishing guide that has the knowledge and fishing equipment to put you on a trophy fish of a lifetime or a quick limit for dinner.
Jason Freed
Elliott / 2B FISHING - Ambassador
As a Minnesota walleye fishing guide as well as a guide for other fish species, Jason gets the pleasure to guide on many different lakes which makes it a unique and rewarding experience all in one. You can find Jason spending his time as a fishing guide on Lake Vermilion, Leech Lake, and the lakes in the Hackensack area. He will be spending the majority of his time on Lake Vermilion now. When he is fishing, Jason is the President of Leisure Outdoor Adventures so he is busy running and managing all operations within the guide service.Outside of guiding, Jason is a High School Social Studies Teacher at Brainerd High School as well as a Varsity Football Coach for the Brainerd Warriors. He likes to say he has passion in life for the 4 F's, "Faith, Family, Fishing, and Football". He is married to Emilee and they have two daughters, Macin and Hayden.
Dylan Foui 🇨🇦
Elliott / 2B FISHING - Ambassador
Just a Manitoba boy with a major passion for hunting down true Canadian monsters. I'm very competitive and love tournament angling. Fishing is my escape from the daily hustle and bustle, and nothing beats making memories on the water with my fishing crew and family. Some of my favorite species to target are lake trout, stocked trout, walleye and crappie. Here are a couple of my go-to rods for the hard water season. I love hunkering down for those huge northern Manitoba lake trout, and the Siscowett-S keeps those fish pinned and hooked to perfection. The 2B Savant is an incredible jaw jacker rod for chasing huge stocked trout or ripping on your go-to bait rattle bait. I am blessed to have Lake Winnipeg in my backyard, which is known for holding some of the biggest walleye in the world. The Elliott Evolution 42" and 45" medium are my top two for flutter spoons or rattle baits for those giant Lake Winnipeg walleye. Lastly, the Elliott Inhaler is my favorite rod for those sumo deepwater slabs.
Will Pappenfus
Elliott / 2B FISHING - Pro Staff
Being a serious Walleye angler, I look for a fishing rod that is both sensitive, lightweight and can keep those giants pinned. The Elliott ES76ML-F is one of my favorites for providing long sweeping hook sets when fishing big minnows. It's so versatile, that I am able to fish leeches and crawlers on the same rod.
Chris Berglund
Elliott / 2B FISHING - Pro Staff
One of my favorite rods in the Elliott arsenal is the ES73ML-F. It is extremely versatile for fishing live bait to pitching jigs and plastics. One of my favorite memories was watching my wife land a 10 ½ lb walleye on that rod. It was definitely one of those special moments an angler will never forget…
Aaron Phillipe
Elliott / 2B FISHING - Pro Staff
I guide on Lake of the Woods and am an avid tournament angler. Being on the water as much as I am allows me to hone my skills. My favorite rod is the Elliott ES69M-F. This rod is an awesome jigging rod and definitely my "go to" for catching those giant LOTW Walleye's.
Matt Schneider
Elliott / 2B FISHING - Pro Staff
I grew up in the North Dakota pothole region. You might guess that my favorite hardwater fish to purse are those giant N.D. Perch. My choice of rods is the Elliott Paragon. It's incredibly lightweight and extremely sensitive. And I truly appreciate the PVD coated guides which helps keep the rod from icing up.
Jace Peterson
Elliott / 2B FISHING - Pro Staff
One of my favorite rods from the 2B Genesis line is the 7'4" medium-heavy baitcasting rod! When those big girls head out deep to their summer time haunts, I lock this rod in my hand with a 1/2oz football jig tied on. Once I set the hook though, I am 100% confident with wrestling them out of the thickest cabbage, coontail, or milfoil. Combined with a nice sensitive tip and a great backbone, this 7'4" is my go-to!
Jake Feldt
Elliott / 2B FISHING - Pro Staff
Being a multi specie angler, my passion takes me to different locations chasing a wide variety of fish. One of my favorite memories is fishing Lake Trout through the ice on Lake Superior. The Elliott Siscowett-S is a game changer for big trout. My summer passions are Bass and Muskies. I love the Syncork handle material. Extremely comfortable and provides a secure grip. I'm hooked…
Karlee Tower
Elliott / 2B FISHING - Pro Staff
The 2B Fishing Big Nood is my favorite ice fishing rod hat I use, hands down! We target panfish for the majority of the season and the Big Nood playful tip action is perfect for detecting those soft bites, as well as hardy enough to reel in some giant game fish!
Cody Krug
Elliott / 2B FISHING - Pro Staff
I'm a huge hardwater panfish guy. My favorite rod is the Elliott Inhaler. I have landed so many fish on that rod, it just doesn't let me down. My biggest to date was a 40" Pike on 2lb. test line after a 30 minute battle. Congratulations to Two Brothers Innovations. What an awesome line of rods.
Nick Cekalla
Elliott / 2B FISHING - Pro Staff
Owner of EyeCrazy Guide Service and avid Tournament angler, Nick's home base is the legendary Mille Lacs Lake. Fishing the big pond requires a well rounded rod selection. Elliott and 2B FISHING offers just that - everything for every situation. Nick's favorite rigging rod is the Elliott ES76M-F.
Andrew Osowski
Elliott / 2B FISHING - Pro Staff
Chasing winter gills has become my passion. It probably started as a young angler standing on the dock. There is nothing more thrilling then to catch one of those giant pie plate size bluegills. And you just can't beat the Noodle Lite for setting the hook and keeping those fish pinned.
Charlie Peterson
Elliott / 2B FISHING - Pro Staff
My 2B Genesis 7'9" Heavy is the one rod I can never leave the house without. No matter where you take me throughout Northern Minnesota, I end up with this rod in my hand, either froggin' or flipping a big jig in the thickest of cover. It's a confidence thing, and when I get that big bite I know the odds are in my favor.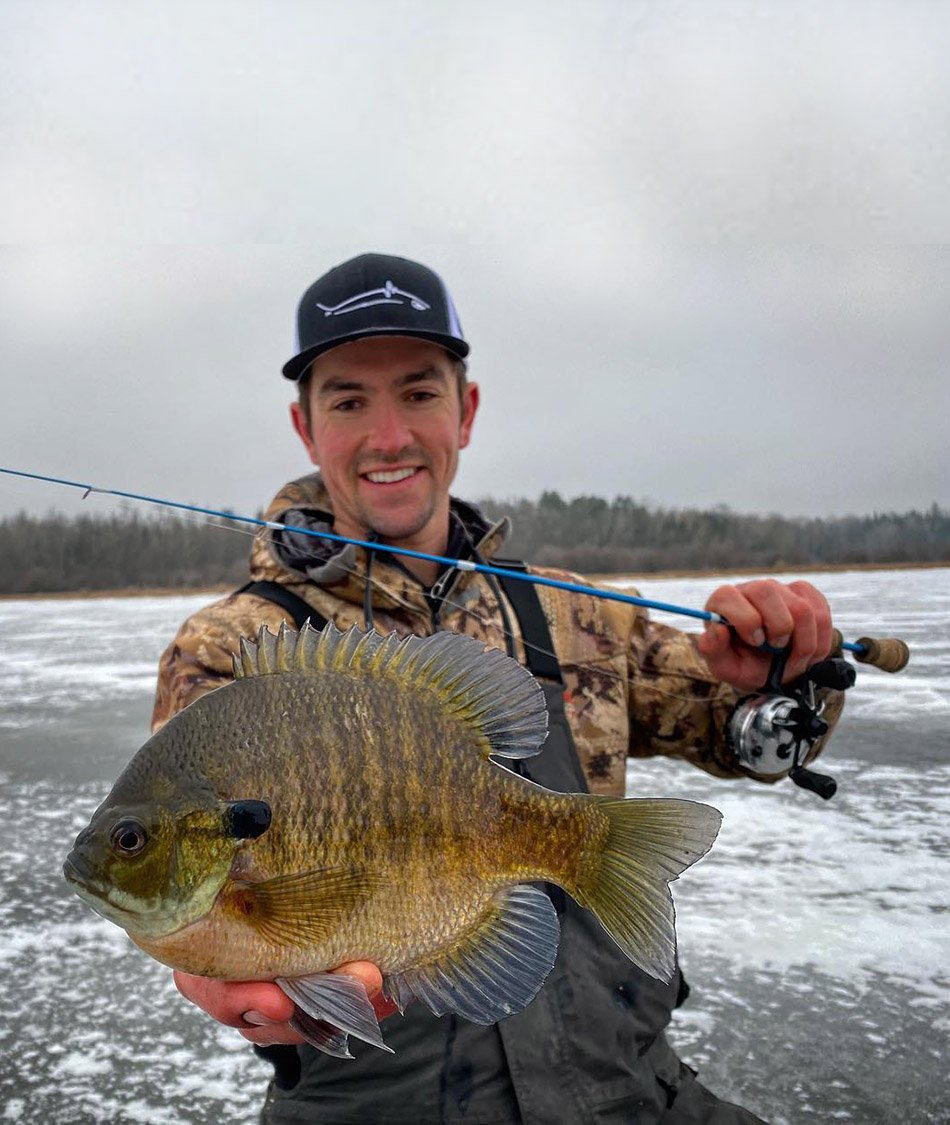 Stephen Roller
Elliott / 2B FISHING - Pro Staff
I love chasing winter panfish. My favorite rod is the Elliott Evolution Series 44" ultra lite. Fishing these new long rods has been a game changer. Great series of rods for hole hopping. The long rods keep the bow out of the line on those windy days and keeps pressure on the fish better than anything I have ever used.
John Hewitt
Elliott / 2B FISHING - Pro Staff
John has fished from Canada to the Bahama's. After 60 years, his passion for fishing is as strong as ever. An accomplished angler, you'll find John chasing everything from Crappies to Muskies. His favorite fish is likely the one that has the word Bass in it. Although John will claim that his favorite specie is the one currently pulling drag on his Elliott rod. His favorite go to Elliott rod is the EC73MH. Being semi retired, John is on the water every chance he can get. John is also an accomplished guitarist.
Jadyn Thomas
Elliott / 2B FISHING - Pro Staff
I absolutely love ice fishing. Chasing big bull gills requires a special rod. It has to have a tip section that offers enough sensitivity to feel those lite biting panfish. The Elliott Noodle Lite is my go to rod that offers both the sensitivity and a parabolic action that puts the odds in my favor. My favorite feature, I love the Syncork handle material. What a game changer...
Chris Beeksma
Elliott / 2B FISHING - Pro Staff
Chris has been fishing tournaments and guiding for over 35 years. He specializes in guiding on Chequamegon Bay of Lake Superior. He especially enjoys the challenge of river fishing for Steelhead, Browns and Salmon. He has been featured in many local, state and national publications and television shows. His favorite Elliott Rod is the EC72M-M/F.
Hays Baldwin
Elliott / 2B FISHING - Pro Staff
Hays Baldwin is a year-round fishing guide in the infamous Brainerd Lakes Area. Spending most of his time targeting walleyes on Gull Lake, he enjoys fishing for just about anything that Northern Minnesota can offer! You will often see him in his tiller with a 2B FISHING Genesis 610ML-XF in hand or on the ice with a Rippineye's from Elliott Rods.
Brent Knutson
Elliott / 2B FISHING - Pro Staff
I believe one of the most important keys to success is your equipment. I want to ensure I'm utilizing the best equipment available to make every bite count. My favorite technique is trolling lead core for big walleye with the 2B FISHING Genesis 11'6" Medium Heavy trolling rods. I have tried them all and this is hands down the best rod on the market today. My favorite rod for rigging big minnows is the Elliott Rods 7'6" Medium Light Fast Action rod. This rod has the versatility to do it all.
Josh Finnesgard
Elliott / 2B FISHING - Pro Staff
Josh grew up learning to fish walleye on the Mississippi River pool 4. His passion for Walleye's grew while on family vacations in northern MN, especially when vacationing on Lake Kabetogama. His hunger for competitive fishing began when he started fishing as a co-angler in the National Walleye Tour. He is now fishing the NWT as a professional angler and is traveling around the country chasing his childhood dream. His favorite rod is the Elliott ES69M-F which is the perfect rod for throwing lipless crankbaits.
Todd Zemke
Elliott / 2B FISHING - Pro Staff
Todd is an avid walleye fisherman from Red Wing, Minnesota. He travels the country in the summers chasing trophy Walleye as an accomplished Tournament Angler from the FLW to the Cabelas National Walleye Tour and Masters Walleye Circuit. At this level of competition, equipment matters and his favorite Elliott Rod is the 6'9" Medium Fast.